See Our Work
Here are a few ways that the Regional Air Quality Council's Simple Steps. Better Air. program is influencing change.
Summer 2021 was the most successful Simple Steps. Better Air. campaign season ever. Prove it, you say? Okay…roll the clip.
What's Ahead and Employer-based Trip Reduction Programs
In 2020, the Regional Air Quality Council (RAQC) and its stakeholders and partners began exploring ways to reduce ground-level ozone and greenhouse gas (GHG) emissions through employer-based programs that limit employees' car trips. While studying data and looking at other successful programs in cities across the United States, the RAQC gathered feedback from the business community and local and state agencies. This input continues to inform how suitable an employer-based trip reduction program (ETRP) would be for our region, and how it would help meet our region's air quality goals. The RAQC's development of concept language and an ETRP framework has been shared with the Colorado Air Pollution Control Division (APCD), which is evaluating and considering them as the starting point for development of an ETRP* rule that may be implemented in portions of Colorado. You can find more information in the APCD's Fact Sheet on ETRP Concepts and on the APCD Webpage.
*Note the APCD's program is called "Employee Traffic Reduction Program" (ETRP), pronounced "E-TRIP"
For Denver metro area businesses looking to develop or enhance employee commuting programs, DRCOG's Way to Go Commuter Consultants are a great place to start. Find your region and see how they can help your business develop a customized ETRP plan here.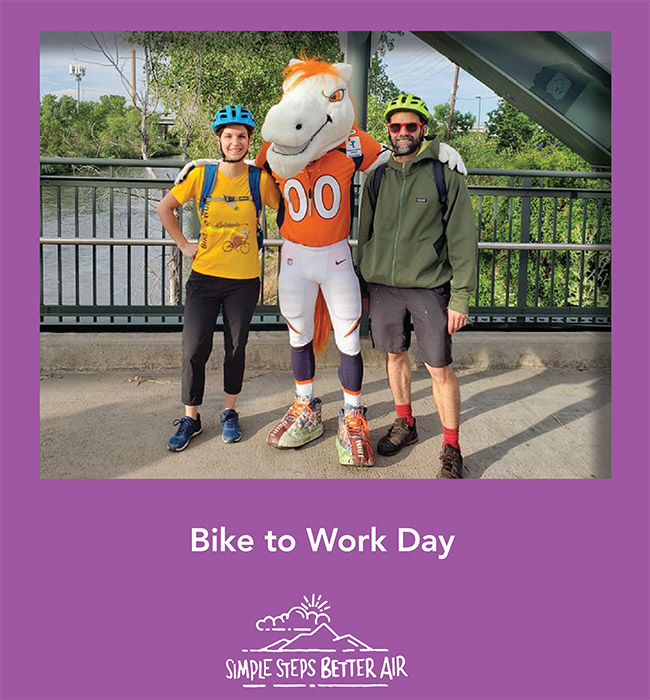 Can Do Colorado Community Challenge
Related to the RAQC's ETRP work, they have also partnered with numerous state agencies, nonprofits, and others on the Can Do Colorado Community Challenge, an extension of Can Do Colorado, which spotlights and supports innovative businesses that are finding creative ways to continue serving their customers safely, implementing teleworking, and reducing in-person interactions during the COVID-19 pandemic. The Can Do Colorado Community Challenge partners offer a variety of resources to local communities and their respective businesses to help safely reopen the economy and point the state towards a healthier and more sustainable future. See how the group's collective resources Improve Air Quality, especially at a time when respiratory health is of particular concern to citizens.
TV Meteorologist Advisory Group
When it comes to the science of weather and weather-related issues like summer ozone, no one tells the story more often than our state's television meteorologists. Since 2018, the Simple Steps. Better Air. program has been working with meteorologists from all major broadcast news affiliates in Denver and the Colorado Department of Public Health and Environment to talk about the problems and solutions to air pollution. The group is essential in providing helpful public information about air quality alerts, taking actions to reduce pollution and recommending ways to improve how we talk about ozone.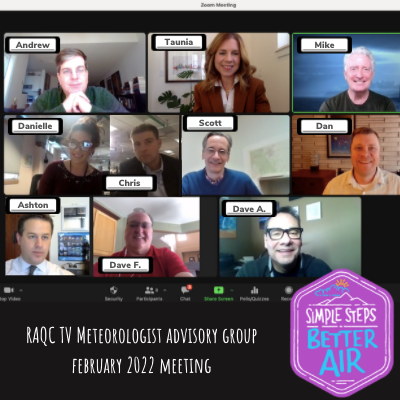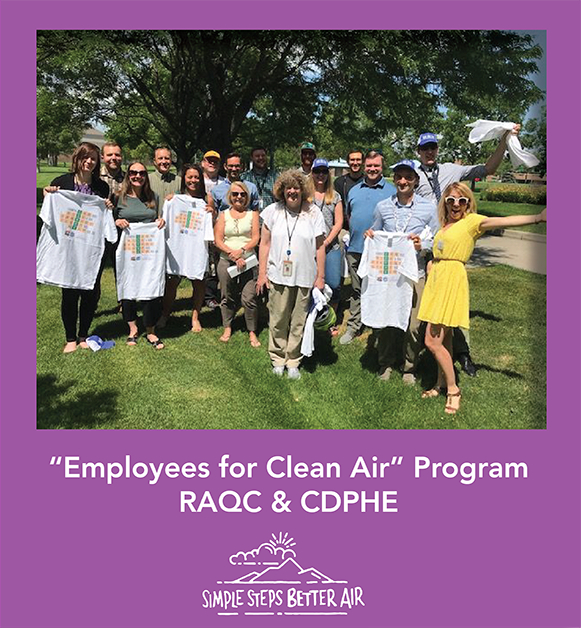 In July 2019, the Regional Air Quality Council's (RAQC) Simple Steps. Better Air. program and the Colorado Department of Public Health and Environment (CDPHE) teamed up to reduce summer ozone with the CDPHE "Employees For Clean Air" program. More than 180 CDPHE employees committed to reducing at least two car trips each week over the summer by combining trips, carpooling, biking, walking and taking public transportation. Skipping car trips they would have made alone eliminated a total of 20,083 vehicle miles in three weeks. That's a significant reduction of ozone-causing emissions across Metro Denver. Results of the CDPHE program were used to design a trip reduction plan that is available to other agencies and businesses in our area, and to increase participation in the campaign's #JustSkip2 movement. The idea of #JustSkip2 is to avoid taking two car trips each week to create cleaner air. If you are interested in learning more about conducting a similar program at your organization or in your community, contact the RAQC at 303.629.5450 or sgoodwin@raqc.org.